A Note About Double Bass Materials
The back, sides and head of my double basses are made mainly from English sycamore, although Balkan maple is sometimes used. Likewise, Balkan spruce is mainly used for the table. I have used cedar for fronts in the past and found it produced outstanding results.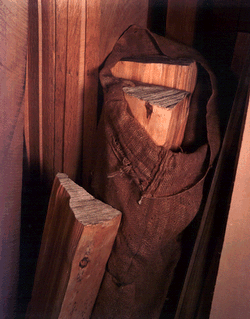 Image: www.cybozone.com/luthier
The fine, even grain of cedar looks good, is free from the sap pockets and knots that can sometimes plague spruce, and produces a fine powerful tone that carries well. My only misgiving regarding this timber is its lightness; one thinks "can timber this light really last two hundred years?" I have, however, seen an old 'cello with ribs of the same light cedar and they had lasted well, so I think my fears are groundless.

I am constantly on the lookout for timber to make basses, and I'm sure many modern makers are much too narrow minded in their choice of materials. The old Italians in particular just simply found some wood and made a bass. It is common knowledge that some of the great master basses of the past were made with what would, today, be considered very unpromising materials. For example, Francesco Goffriller with his seven plank fronts, or the great Vincenco Panormo with his slab sawn "floorboard" fronts complete with large knots. In the past basses were cheap and had to be made from the most economic timber possible.

I am now becoming more enthusiastic about the use of 'poplar' wood for the backs of basses. In the 17th and early 18th centuries it was a much used timber in the construction of double basses and 'cellos, especially Brescian instruments. However, later on it tended to be overlooked in favour of maple with its more beautiful figure.

I have been using poplar for the backs of basses for some time now, and find it a very aggreeable timber to use.. Although it does not have the beauty of figured maple, it is a lovely timber to work, and makes the carving, by hand, of an arched bass back almost blister free. Also, another beautiful thing about poplar is it can be used equally well for fronts as it can for backs, with good tonal results, although I have not done this myself as I do prefer the look of a spruce front, but maybe one day.

I have also had a very positive reaction from players. My Matteao Gofriller model is only made with a poplar back, and I have now sold nine of my solo basses with arched poplar backs. All of these basses have a large deep mellow sound that is very suited to orchestral playing and play in very quickly. I still tend to use maple for the ribs of these instruments as I prefer the way maple bends - poplar has a tendency to crease in the tight curves, and as I make my ribs rather deep, I find maple has the strength I feel they need.

All of my instruments are oil varnished. This is the traditional varnish used by most old master makers: it is very slow drying, a process that works by oxidization rather than evaporation. This gives a durable yet supple finish, which will age beautifully. However, some care does need to be taken in the first year of an instrument's long life while the varnish slowly hardens.